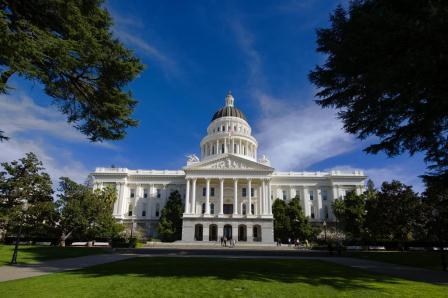 The Governor's Historic Preservation Awards Program provides an opportunity to annually recognize exemplary preservation efforts going on throughout California. We invite you to review the Award recipients listed below, all of whom represent the many outstanding ways in which our collective heritage is celebrated and preserved.



---
2022 Award Recipients
Angel Island Immigration Station Hospital
First Congregational Church of Long Beach
Old Orange County Courthouse
Sacramento Municipal Utility District (SMUD) Headquarters Building
Save As: NextGen Heritage Conservation
Video of the 2022 Awards Ceremony
---
2021 Award Recipients
Arts District Liberty Station
Beckman Instruments Administration Building
Guilford Hall-Penn Court
Paramount Theatre of the Arts Facade Restoration
Pacific Electric Railway Substation 14
The Spirit of Chicano Park
Unsung Heroes of Hearst Castle
Video of the 2021 Awards Ceremony
---
2020 Awards: Due to the COVID-19 pandemic and focus on subsequent safety and operational protocols, the Governor's Historic Preservation Awards Program was suspended for 2020. The awards program resumed in 2021.
---
2019 Award Recipients
Beverly Fairfax NRHP Listing
Contra Costa Florist Building
Doors Open Riverside
Livermore Railroad Depot Rehabilitation and Relocation
Manzanar Community Archeology Program
Video of the 2019 Awards Ceremony
---
2018 Award Recipients
City of West Hollywood Commercial Historic Resources Survey, Context Statement, and Preservation Website
Cucamonga Service Station
Digital Media Arts Center
Mid-Century Modern in the City of Sacramento Historic Context and Survey
Research and Collaboration for the Restoration of Tstyiwi on the Pecho Coast
Santa Barbara County Courthouse Mural Room
Video of 2018 Awards Ceremony (Awards ceremonies are live-streamed beginning with the 2018 awards ceremony)
---
2017 Award Recipients
Battleship Iowa Interactive Tour App
Carmen Lucas
Carson Block Building Rehabilitation
City of Anaheim Mills Act Video Series
Galleon San Salvador: Creating a Seaworthy Replica of California's Ship of Origin
La Neighbor: A Settlement House in Logan Heights
Preserving and Processing the Valley Times Newspaper Photographs
Salvaging the Past: A Case Study in Archaeological Inquiry
---
2016 Award Recipients
Ancestors 1 and County of Lake Memorandum of Agreement
California Theatre
Citywide Historic Context Statement for LGBTQ History in San Francisco
Cuyama Valley: A Corridor to the Past
Home Front at Camp Anza
Interpreting the Drawings and Career of Architect John P. Pedersen
Kashaya Pomo Cultural Landscape Project
Little Italy San Diego Interactive Mobile App
Palm Springs Art Museum Architecture and Design Center, Edwards Harris Pavilion
Paula Boghosian
Preservation Resource Center at the Shotgun House
Santa Ysabel Restoration Project
---
2015 Award Recipients
A Napa Coloring Book
A Walk Through Time: The Story of Anderson Marsh
Audrey Geisel University House
Carmel Mission Basilica
Coit Memorial Tower
Dana Adobe
"Historic Pasadena" Smart Phone App
Presidio Officers' Club
Robert Pitcairn Jr. House and Reverend A. Moss Merwin House
Santa Barbara County Courthouse Clock and Gallery
Sustaining San Franciso's Living History
For information about awards granted prior to 2015, contact the Office of Historic Preservation at 916-445-7000 or calshpo.ohp@parks.ca.gov.
---