The Governor's Historic Preservation Awards Program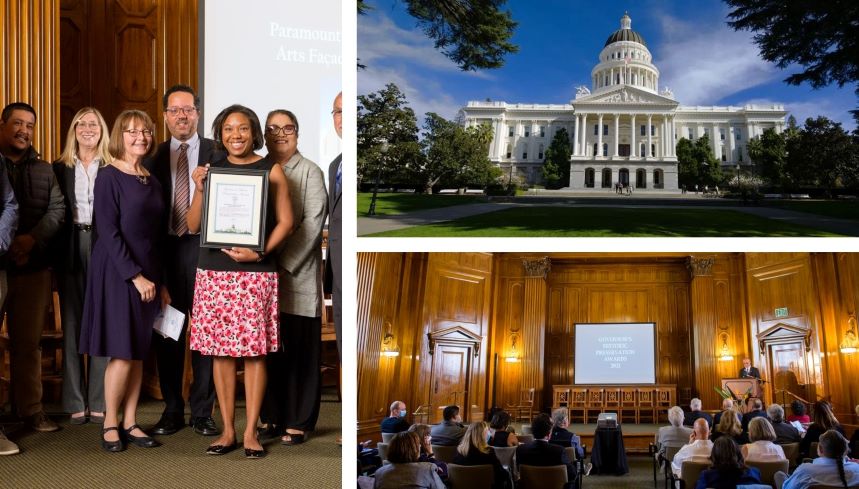 Established in 1986, the Governor's Historic Preservation Awards is California's only state-sponsored awards program and seeks to recognize community-centered, often grass-roots efforts going on throughout California to preserve our collective heritage. The awards are presented annually under the sponsorship of the California Office of Historic Preservation (OHP) and California State Parks to projects, individuals, and organizations whose contributions demonstrate outstanding achievements in historic preservation.
---
2023 Awards Now Accepting Nominations
The Office of Historic Preservation welcomes nominations for the 2023 Governor's Historic Preservation Awards! Nomination Deadline: May 8, 2023.
Preservation efforts will be considered that among others, rehabilitate, restore, or adaptively reuse historic buildings; document, educate about, and preserve cultural traditions and sites; establish public programing that promotes and teaches about California's heritage and/or actively engages citizens in the work and mission of historic preservation; successfully achieve historic designation of a resource through community/grassroots efforts; or develop strategies and responses to climate change impacts on cultural resources and heritage. Individuals, projects, groups, organizations, and agencies can be nominated. Download the forms below. Good work deserves to be celebrated!
2023 Read First
2023 Award Categories and Criteria
2023 Nomination Form-Projects, Programs
2023 Nomination Form-Individuals, Organizations, Agencies
2022 Award Recipients Announced
On behalf of Governor Gavin Newsom, the Office of Historic Preservation is pleased to announce the recipients of the 2022 Governor's Historic Preservation Awards. These projects represent the variety and excellence of work being done thoughout California to preserve our collective heritage. Congratulations! Awards will be presented at a ceremony in Sacramento on March 30, 2023, and will be livestreamed via the OHP Facebook and YouTube channels. In the meantime, click on the links below to learn about each of the 2022 award recipients.
Angel Island Immigration Station Hospital
First Congregational Church of Long Beach
Old Orange County Courthouse
Sacramento Municipal Utility District (SMUD) Headquarters Building
Save As: NextGen Heritage Conservation