JAMES R. BROWNING U.S. COURT OF APPEALS BUILDING, SAN FRANCISCO
This photo is a detail from the stained glass in Courtroom One of the James R. Browning U.S. Court of Appeals Building in San Francisco. Completed in 1905 as both a courthouse and a post office, the building was one of only two buildings south of Market Street to survive the 1906 earthquake and fire (the other was the 1874 U.S. Mint building). Its design was influenced by Italian-Renaissance architecture combined with Beaux Arts grandeur. The building was listed on the National Register in 1971.

(Photo from the Carol M. Highsmith Archive, Library of Congress, Prints and Photographs Division.)

For more information, visit U.S. Court of Appeals Building


---
SALK INSTITUTE, LA JOLLA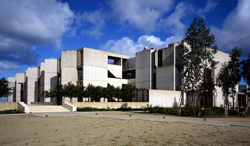 The Salk Institute for Biological Studies is a premier independent, non-profit scientific research institute founded in 1960 by Jonas Salk, the developer of the polio vaccine. The beautiful campus, designed by Louis Kahn, was intended to draw the best researchers in the world to the institute. The buildings themselves were designed to promote collaboration between scientists. The 27-acre site was determined eligible for listing on the National Register in 2006.

(Photo from the Carol M. Highsmith Archive, Library of Congress, Prints and Photographs Division.)

For more information, see Salk Institute.


---
FOLSOM POWERHOUSE, FOLSOM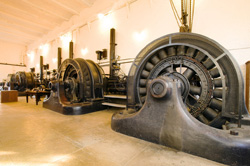 The Folsom Powerhouse began operations in July 1895 and delivered power to Sacramento at 11,000 volts, a new achievement in long-distance high-voltage transmission. The original generating plant remained in continuous operations until 1952 and is now a state historic park. The Folsom Powerhouse is California Historical Landmark #633 and was designated a National Historic Landmark in 1981.

For more information, see Folsom Powerhouse.