PRESLEY HONEYMOON HOUSE, PALM SPRINGS
Shortly after they married, Elvis Presley and wife Priscilla retreated to this semi-circular home in Palm Springs. Presley had rented the home after its original owners, prominent Palm Springs builder Robert Alexander and his wife, were killed in a plane crash. The house was designed by the architecture firm Palmer and Krisel, and in 1962 Look Magazine featured the Alexanders and their "House of Tomorrow."

(Photo from the Carol M. Highsmith Archive, Library of Congress, Prints and Photographs Division.)

For more information, see Presley Honeymoon House.


---
CHUMASH PAINTED CAVE, SANTA BARBARA COUNTY
Chumash Painted Cave is a small sandstone cave adorned with rock art attributed to the Chumash people. The cave contains numerous drawings apparently depicting Chumash cosmology and other subjects over a long period ranging from about 200 years ago to possibly 1,000 years or more. The cave is now a state historic park and was listed on the National Register in 1972.

For more information, see Painted Cave.


---
CHAPEL at EL PRESIDIO REAL de SANTA BARBARA, SANTA BARBARA
The presidio at Santa Barbara was founded in 1782 as the last in a chain of four military fortresses built by the Spanish along the cost of Alta California. The chapel building was the most prominent structure at the presidio, and it served as the first church for Santa Barbara's townspeople. Although the original building that housed the chapel was eventually lost, it is now one of the reconstructed buildings at the site. The presidio was listed on the National Register in 1973.

For more information, visit El Presidio Real de Santa Barbara.


---
MISSION LA PURISIMA CONCEPCION, LOMPOC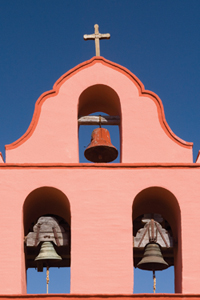 Mission La Purisima Concepcion was founded on the Feast Day of the Immaculate Conception of the Blessed Virgin in December 1787. It was moved after an earthquake severely damaged the mission buildings in 1812. After the mission was abandoned following Mexican independence, the buildings slowly deteriorated until only nine remained intact by 1934. It was at that time that the Civilian Conservation Corps (CCC) restored and reconstructed the mission. It is now part of La Purisima Mission State Historic Park and is currently the only example in California of a complete Spanish Catholic mission complex. It was designated a National Historic Landmark in 1970.

For more information, see Mission La Purisima .