BROCHURE IMAGES - Rows 10 & 11
FISH TRAP at AHJUMAWI LAVA SPRINGS STATE PARK, LASSEN COUNTY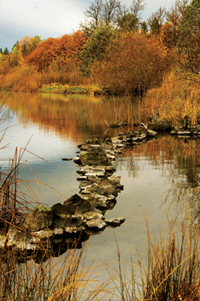 The Ahjumawi are one of nine bands of the Pit River Indians who occupied a large area of northeastern California. Suckers were a primary food source and the Ahjumawi developed effective fishing techniques to harvest this resource. The stone fish traps they built are ingeniously simple and efficient devices to capture suckers. According to oral history accounts, it was not unusual to take one hundred fish or more from any given trap. A total of ten stone traps have been documented within the state park.

For more information, see Ahjumawi Fish Trap.


---
SOUTHERN PACIFIC No. 1 C. P. HUNTINGTON, CALIFORNIA STATE RAILROAD MUSEUM, SACRAMENTO
This diminutive steam engine locomotive was built for the Central Pacific Railroad and shipped around Cape Horn to arrive in San Francisco in 1864. Originally known as engine No. 3 it was used in the construction of the transcontinental railroad. The locomotive has been restored to its November 1914 appearance when it was refurbished for display at the Panama-Pacific International Exposition. It is significant nationally as the sole surviving standard-gauge 4-2-4 in the U.S., and it is the oldest locomotive owned by the State Railroad Museum.

For more information, see Locomotive.


---
BALE GRIST MILL STATE HISTORIC PARK, NAPA COUNTY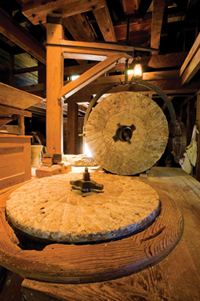 This water-powered grist mill was built in 1846 and was once the center of social activity in the Napa Valley as settlers gathered here to have their grain ground into meal or flour. The owner of the mill was Dr. Edward Turner Bale who received the property on which he built his mill as a land grant from the Mexican government. The mill remained in use until 1900, and for a time its 36-foot overshot water wheel was the largest of its kind west of the Mississippi River. The mill is now part of a state historic park and is a California Historical Landmark as well as being listed on the National Register.

For more information, visit Bale Grist Mill.


---
MISIÓN LA PURÍSIMA CONCEPCIÓN DE MARÍA SANTÍSIMA, LOMPOC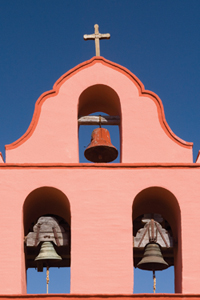 Misión La Purísima Concepción De María Santísima was founded on the Feast Day of the Immaculate Conception of the Blessed Virgin in December 1787. It was moved after an earthquake severely damaged the mission buildings in 1812. After the mission was abandoned following Mexican independence, the buildings slowly deteriorated until only nine remained intact by 1934. It was at that time that the Civilian Conservation Corps (CCC) restored and reconstructed the mission. It is now part of La Purisima Mission State Historic Park and is currently the only example in California of a complete Spanish Catholic mission complex. It was designated a National Historic Landmark in 1970.

For more information, see Mission La Purisima .