BARRACKS BUILDING at FORT TEJON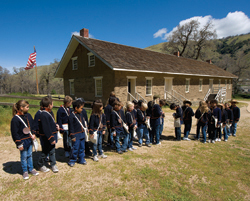 Behind the schoolchildren participating in an environmental living program experience mimicking mid-19th century life at Fort Tejon is the restored barracks building. The fort is now a state historic park and is listed on the National Register.

For more information, visit Fort Tejon.


---
S. S. Jeremiah O'Brien, San Francisco
The Liberty Ship S.S. Jeremiah O'Brien is a rare survivor of the 6,939-ship armada that stormed Normandy on D-Day, 1944. It was designed a National Historic Landmark in 1986.

(Photo from the Carol M. Highsmith Archive, Library of Congress, Prints and Photographs Division.)

For more information, visit S. S. Jeremiah O'Brien.


---
SPACE SHUTTLE ATLANTIS, EDWARDS AIR FORCE BASE, KERN COUNTY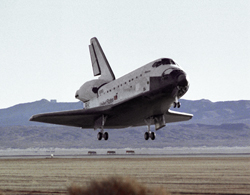 Space Shuttle Atlantis landing at Edwards Air Force Base, Kern County.
The ending of the space shuttle program, officially called the Space Transportation System, by NASA was reviewed by the Office of Historic Preservation under Section 106 of the National Historic Preservation Act. The program commenced on April 12, 1981, with the Columbia, which was built in Palmdale, California, making the first shuttle orbital flight. California will be receiving one of the remaining now-retired shuttles for display.

(Photo courtesy of National Aeronautic and Space Administration.)

For more information, NASA.