BROCHURE IMAGES - Rows 4 & 5
CHAW'SE INDIAN GRINDING ROCK, AMADOR COUNTY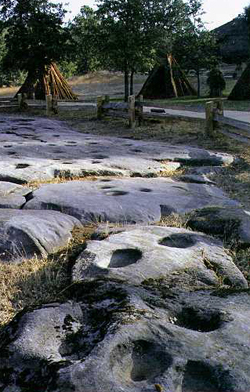 The Chaw'se (Miwok word for grinding rock) at Indian Grinding Rock State Historic Park in Amador County is an outcropping of marbleized limestone with some 1,185 mortar holes, the largest collection of bedrock mortars in North America. In addition to the mortar holes, the rock features a number of decorative carvings, some of which are thought to be as much as 3,000 years old. The site was listed on the National Register in 1971.

For more information, see Chaw'se.
---
CHINESE POETRY, ANGEL ISLAND
Between 1910 and 1940, the Immigration Station on Angel Island was the point of entry to the U.S. for approximately 175,000 Chinese immigrants. The interrogations that took place on the island could take a long time to complete, so some detainees expressed their feelings as they waited in poetry they carved into the walls of the detention center.
---
QUEEN MARY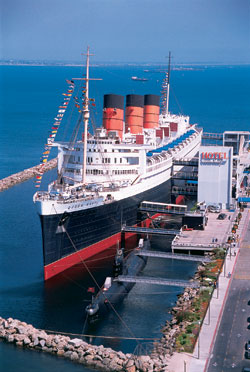 The Queen Mary, now berthed in Long Beach, began construction in 1930 in Scotland and made her maiden voyage in 1936. The ship was listed on the National Register in 1993 and has received a California Heritage Fund grant. (Photo courtesy of The Queen Mary.)

For more information, see Queen Mary.
---
PARAMOUNT THEATER, OAKLAND
Oakland's Paramount Theater was designed by renowned San Francisco architect Timothy L. Pfleuger and completed in late 1931. It became a California Historical Landmark in 1976 and was named a National Historic Landmark in 1977. (Photo from the Carol M. Highsmith Archive, Library of Congress, Prints and Photographs Division.)

For more information, see Paramount Theater.